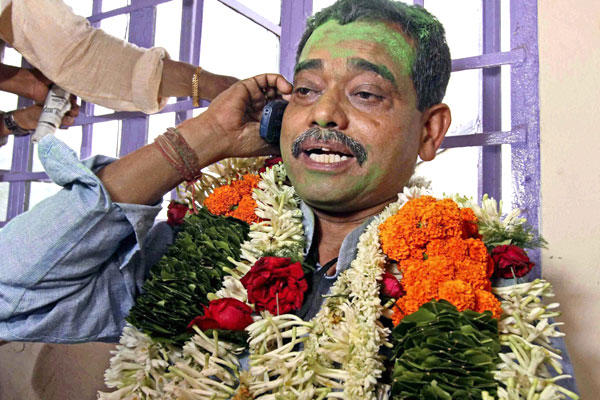 http://www.hindustantimes.com/India-news/NewDelhi/Pranab-s-son-terms-Delhi-women-protesters-dented-painted-apologises/Article1-981395.aspx
President Pranab Mukherjee's son Abhijit Mukherjee has tendered unconditional apology for his 'dented and painted' remarks on the Delhi anti-rape protesters, admitting his statement was 'outrageous'.
Earlier, Abhijit stoked a major controversy by describing women participating in Delhi protests against gangrape of a student as 'highly dented and painted', triggering angry backlash.
"Those who are coming in the name of students in the rallies, sundori, sundori mahila (beautiful women), highly dented and painted," Abhijit Mukherjee, an MP from Jangipur seat which the President had vacated before his election, told a news channel.
"Giving interviews in TV and showing off their children. I wonder whether they are students at all," he said, adding, "what's basically happening in Delhi is something like pink revolution, which has very little connection with ground realities."
"It is fashion of a section of the community to hold protest marches just like visiting a discotheque. These sections do not have any connection with the people from the grassroots. They come decked up and painted," Mukherjee commented in his home district of Birbhum, while celebrating Christmas.
"We were also students. This section doesn't appear and behave like students," Mukherjee said.
Two days later as the comment drew sharp reactions from different sections of the country, Mukherjee promptly retracted his statement.
Congress MP Abhijit Mukherjee and his father Pranab Mukherjee while campaigning in Jagipura, West Bengal, in this file photo.
However, before that he faced the ire of his own sister, Sharmistha Mukherjee who is a trained dancer.
"I am ready to apologise for the statement. This statement does not reflect the values of our family," she said on a television show.
As his "insensitive" remarks sparked outrage with even his sister Sharmistha expressing "utter shock and anguish" and apologising on his behalf, Abhijit "withdrew" his comments and said they were not meant to hurt "any particular section or any particular sentiment".
"I express my utter shock and anguish. I really apologise to every women, man and every sensitive person in this country… I am utterly shocked and only thing I can say is that I really apologise on his behalf… I am quite surprised with what my brother said," Sharmistha said.
Asked whether Abhijit should apologise for his words, she said, "I completely agree. He should immediately apologise.